This website is currently under heavy construction.
thank you for visiting anyway!!

... You see a strange, pink frog-like thing blocking the path.

"HI! I'm SCROOGIE!"
I'm a weird little creature with a penchant for making weird little creatures. If you enjoy weird creatures, then you might have a friend in me.
I'm currently working on Panewker, a comic featuring three little creatures in a weird little world full of creatures just like them. I try to post new pages every Friday.
Check it out!!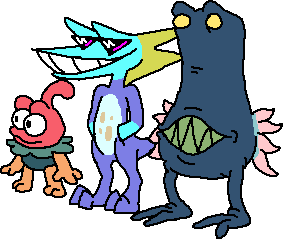 What's New
New art, Escape From Petcru Base B74. It took SOOOO LONG!!
Slowly working on the Scrookipedia. It's not updated yet, but it will be soon! Same goes for the comic.
New art, Mortisorg The Living Savepoint.
Started new "Cool Software" page. It has some cool software I use when I'm making stuff, be it for the website or for game development. Still under construction!
ALso added new buttons to the side for websites I really like :) if you see your button on there, first of all HIIIII and second of all you're really cool! Also I can't believe all this time I called buttons "banners." That's crazy. Let's just say it's an old web thing and call it a day.
playing fricking grimecraft

I heard looking at plants can help calm you down. I don't know the veracity of that, but it wouldn't hurt to have some greenery around here, so I added some plants to the left side of the screen. They might be temporary, since they clash with the rest of my website a little bit. I changed the blend mode of the splash texture in the background for now, even though I love the in-your-face-ness of the bright green that it was before. Let me know what you think, I guess?
Figuring out some Javascript basics. I would like to use as little Javascript as possible on this site if I can, since I don't want my site to break when someone blocks it.
Reordered this list.

There's a new Panewker page out. I'm slowly getting work on it done and it's turning out pretty good(then again I'm not the one who gets to decide that.) Check it out and keep an eye out for new pages.
Started work on the Scrookipedia, an encyclopedia about my worldbuilding project, Scrooks. Also added a Ko-fi button! Hopefully this has made it easier for those who want to support what I do.
Minor CSS fixes.
Started this little update log thingy. Updated About Me page. Updated Art Gallery. Added some cool fricking banners!!!